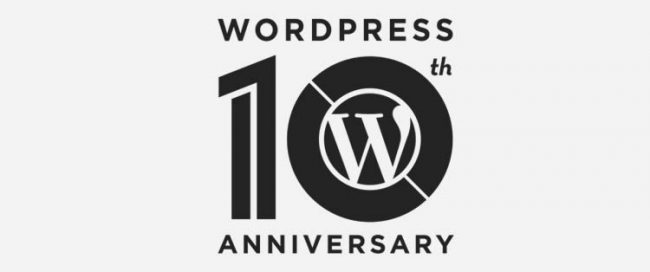 It's hard to believe that WordPress has been around for ten years. It has become one of the most user-friendly and aesthetically pleasing blogging platforms around, and if you're not already using it to enhance your presence (either professionally or personally) then you should consider using it.
On May 27, 2003, WordPress was released, a forked version of b2 that was popular right away. For those of you who aren't programmers,"forked" means that developers took a copy of source code from one software package and started independent development on it. Mike Little and Matt Mullenweg were the developers that saw the seed of potential in b2 and created WordPress. That first version saw 822 downloads per day. Today WordPress 3.5 gets downloaded on average 145,692 times a day. Chances are that if you have a blog, you're using WordPress.
What keeps WordPress on the cutting edge of blogging is that its development and advancement is driven by the user experience. Translated, this means that the developers and programmers behind the software want your blogging experience to be easy and fun. If you look at their milestones over the past ten years, you'll see why:
WordPress 1.5 launched a revolutionary theme system, despite great resistance from the wider programming community, that enabled users to quickly change their site design.
WYSIWYG editor – Many programmers felt that if you had a blog, then you should be able to write html. WordPress was one of the first blogging platforms that gave the user the ability to see exactly what the text would look like after it was published, or What You See Is What You Get. As Matt Mullenweg said in the WordPress birthday blog post, "Some developers hated that we stuck with our code, refusing to rewrite, but it's always been the users that matter: better a developer lose sleep than a site break for a user. Our code isn't always beautiful, after all, when WordPress was created most of us were still learning PHP, but we try to make a flawless experience for users."
Plugins – These software components can be installed and updated with one click of your mouse, adding extensive capabilities to your blog and site design.
The WordPress revamped media loader now makes it easier for users to get their images, video and media online and inserted into their posts.
It can be an intimidating thing to start a blog and to figure out how it fits with your overall marketing plan. At Dirigo Creative, we can help you with content creation, web design, and blog content. With WordPress in our arsenal of tools, you won't have to dive into the unknown and flounder around, trying to figure out a complex software platform. One of WordPress's strengths is its community, and after ten years, the amount of written documentation, language translation and activity in the forums is substantial. No other blogging platform has that diversity.
So why are we celebrating ten years of WordPress being our favorite blogging platform? Because it means ten years of development, collaboration and high-quality user enhancements that will help Dirigo Creative bring you excellent web content and blog posts. WordPress helps us deliver the very best product to you in an effective way that keeps your clients and customers engaged and informed.
Happy Birthday, WordPress! And may you have many more.