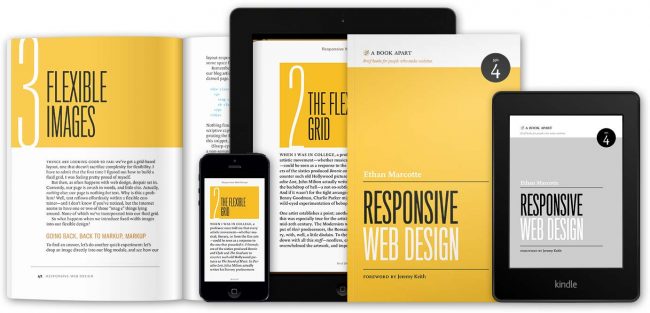 Over 50% of Americans own a smartphone, according to research firm IDC. Obviously, half of the new visitors to your website are going to learn about your company through a browser app on their phone. How will your website look when they visit?
Responsive design enables your website to work on browsers outside the traditional desktop computing environment. Browser apps on devices with smaller screens–smartphones, tablets and netbooks–or much larger screens, like smart TVs or the video walls you see in airports, malls and entertainment venues, can display web content properly only when it has been designed to respond to their display parameters.
To design responsively, web developers create a combination of fluid images and layouts with smart coding to ensure websites are viewable in ways that makes them usable to visitors on small or large screens.
Back when websites were confined to computer screens, web developers controlled display easily by aligning content into the equivalent of tables. Source code "told" the browser to display the "table" as wide as the browser, and this width was the precise size of the screen. Today, with tinier computer chips, engineers can create display screens to fit into the palm of your hand or the face of your watch. These small processors also allow for slim width displays of large size to be built with light materials, so manufacturers can make extremely large displays to receive content wirelessly. These displays can show live website feeds, and new touch screens mean more websites can be used in more locations.
More screens in more sizes in more places means more businesses require websites built with responsive design. Is your website responsive? Find out now.
Image From Responsive Design Book